'SPIRIT FLOW' SACRED SOUND HEALING TRAINING – course outline and info – each training is unique and created in the moment, one-to-one and bespoke.
Whether your aim is to give group sound healing sessions, merge your existing healing modalities with sound, or something else entirely, this training course will give you all the preparation you need. 6-day course spread over 6 (preferably) consecutive weeks. Sliding scale of £100/£150/£200 a day, you choose what you can afford. Throughout the year when it works for you. Available Tuesdays, Thursdays, Saturdays and Sundays only.
This is an opportunity to work with Spirit and connect with your unique, authentic soundhealing voice. You will have the opportunity to discover technique, experiment and explore in a beautiful supportive environment; to witness and receive soundhealings for your personal development and healing journey.
YOU are the instrument through which Spirit flows. Our aim is to be a clear, heart-centred channel.
In service to the Highest Good, we can focus Intention on specific issues, and co-create healing shifts for others, raising the vibration in our personal and the global energy fields.
Spirit Flow Sound Training is an affordable six day-long training programme. 6-day The course is spread over 6 (preferably) consecutive weeks. Sliding scale of £100/£150/£200 a day, you choose what you can afford Throughout the year when it works for you. You choose when you would like to come to do the training. Visit beforehand to chat and get a feel of the place.
The first 4 days are exploration and experimentation with techniques, plus personal clearing. The last 2 days involve giving sessions, under supervision and mentorship.
By the end of this unique bespoke training you will be ready and confident to pursue your intended goal. Previous trainees have gone on to deliver group sound baths, one-to-one healing sessions, and have merged their existing healing modalities with sound.
The £s exchange is a sliding scale of £100/£150/£200 a day, you choose what you can afford. This includes simple nourishing food and drink (let me know your dietary requirements), and basic comfortable accommodation in the Hermitage, or living room, if staying overnight, before or after the training days.
Payments can be made in one go, or in two installments, with a full commitment to completing the 6 day course.
Instruments are:
Koshi Chimes (Air, Earth, Fire, Water);
singing bowls tuned to various notes and chakras;
Wah Wah Pipe and Tuning Fork both tuned to 528Htz heart/love frequency;
Symphonic Gongs, with mallets and Bear Love flumis;
Crystal Pyramid;
Crystal Bowls (Gold, all the Chakras and Earth/OM bowls);
Angel Chimes;
Ocean Drum;
Your voice
On Day 1 techniques and information are shared. Notebook and pen required. Plus you will receive a healing session.
On days 2, 3, & 4 there will be a mixture of honing techniques, receiving and giving sessions, experimentation and play.
On days 5 and 6 we will invite people to experience you giving a sound healing sound and they will give you constructive feedback.
Images on linked SOUND HEALING TRAINING GALLERY page
"I can highly recommend this training. Ali is a very experienced and gifted therapist and most generous in sharing her invaluable skills and wisdom. As a result of this course, I developed my own modality of Somatic Sound Healing. Ali was open and encouraging for me to experiment and find my healing niche and I couldn't be more grateful to have had this wonderful opportunity". Jean
"Hi Ali! I am playing using your technique on the gongs and it's a game changer!! Thank you so so much." Angela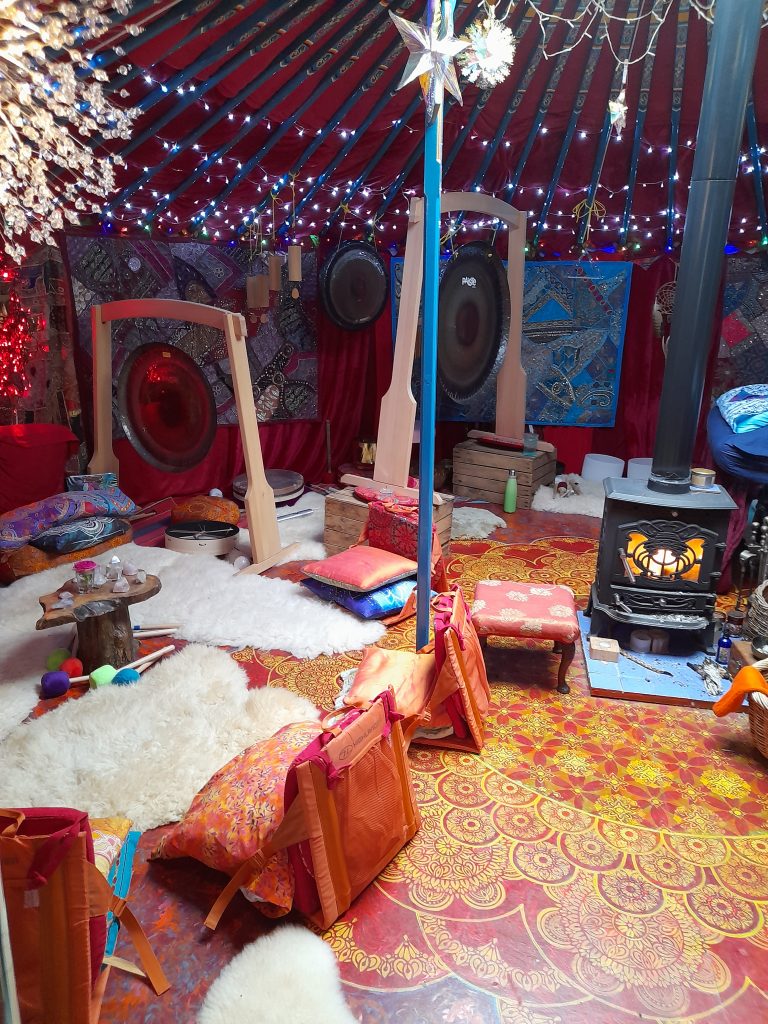 Sky testimonial… "Well… Having had the wonderful opportunity to spend 6 days with Ali enjoying the intensive residential training during the final days of summer in the yurt, I now sit with a wide smile on my face in thought. Ali guided and shared with me in accomplishing something really wonderful and I am filled with a love and a real appreciation for Ali as a person, as a friend and as her student.
I chose to seek the guidance of Ali to explore with her the intuitive aspect of sound healing and the innate potential that we all have within being unlocked and brought into my practice in a way that I knew she could. It was this specific area (incorporating intuitive and innate ability) whereby this experience truly blew me away.
Having enjoyed very moving and profound sessions as a client, I knew what Ali had to offer in assisting my direction and holding space for me to explore my nature within sound. Ali's abilities, the practicalities of a sound healing environment and the potential of her imparting the knowledge of healing she had accumulated, not only in sound, but energetically, and her extraordinary ability to hold a safe and sacred space that I had only touched upon on several occasions prior to meeting Ali, all drew me to the conclusion that this was a wonderful opportunity that should not be missed.
Firstly Ali has a yurt, a really beautiful yurt. It is a space that is very well loved and maintained and filled with wonderful art, lighting and an aura that is supported by elemental scents and stimulus to aide you in your journey. The obvious affection Ali has imparted on the space becomes infectious to the student that wishes to be open to absorbing all we can from the teacher. The yurt is nestled in a wonderful wild garden that in summer is akin to something out of a fairy tale, calling you to enter and feel grounded and present and comfortable, and Ali's energy holds the space together with aplomb.
Inside the yurt the selection of sonic tools offered kindly by Ali for use during the course of the 'apprenticeship' are many and are of the highest quality, again handled and cared for with love, all with their own individual personalities and nuances that over the time share with you their secrets and in doing so expose you, the qeuerent, to secrets that may well have been hiding within you for your entire life.
Ali carefully grounds you each day with wonderful guided meditations and warms you up with carefully and uniquely compiled, heart opening, expansive systems and routines to prepare you for the daily work that you are about to undertake. I found these daily openings to our sessions (and the Mint tea!) to be so lovely and the perfect start to the deep and illuminating work we shared in together.
Ali guided me through each individual piece of sonic apparatus and then watched and listened intently as I explored the feelings these sonic tools conjure from within. Ali allows you the space for you to see exactly what it is you need to discover and a unique dialogue on techniques, playing habits, do's/don'ts, works and won't; becomes a space where you begin to learn about yourself, the equipment and the exchange that is taking place with Ali's nurturing guidance.
Offering a very dynamic structure and a fluid motion of moving through the course, Ali allows you to discover where it is you need your experience to take you. Everyone and each experience we have is different but I know that wherever the path of enquiry will take you, be you experienced as a healer or total novice, Ali has the ability to stand with you every step of the way.
I was assisted during these 6 days in finding out so much about myself and the potential within, both in the sound and most amazingly away from the sound too, about my character, my life's path, the energy that surrounds me and an understanding of the steps I need to take to find balance, and a path of wonderful potential that I am now accessing and each time I do so I know I have Ali to give gratitude to for sharing with me a lot of herself and the knowledge she has accrued.
Ali also facilitated daily healing sessions to end proceedings that you really need to be part of to appreciate. Wonderful, wonderful sessions that she channels and presents to you whilst you sit as snug as a bug in a rug under warm blankets and on one of many very comfortable places to lay your head on a lavender pillow and eye cushion and journey to wherever you need to go, discovering whatever you needed to uncover, seeing exactly what it is you are supposed to see.
At the end of the training given Ali gifted me a number of wonderful opportunities to work on and with other healers from within Ali's Metta Collective, in turn giving feedback on my progress and a great gift of knowing the right direction had been assumed and new skill set had been gained.
After the 6 days in the yurt, I left a very different person to when I arrived and for that I will be eternally grateful to a remarkable woman. I left with a friend for life and an indelible understanding of the workings of a true healer, a healer that had so openly and generously gifted me an insight not only into the her workings but opened up a new chapter in my life and a new understanding of how I myself work and understand the power of intuition, sound and my own ability to facilitate a healing space. Thank you Thank you Thank you"
Sky Evans, Sound Alchemist, working in Bali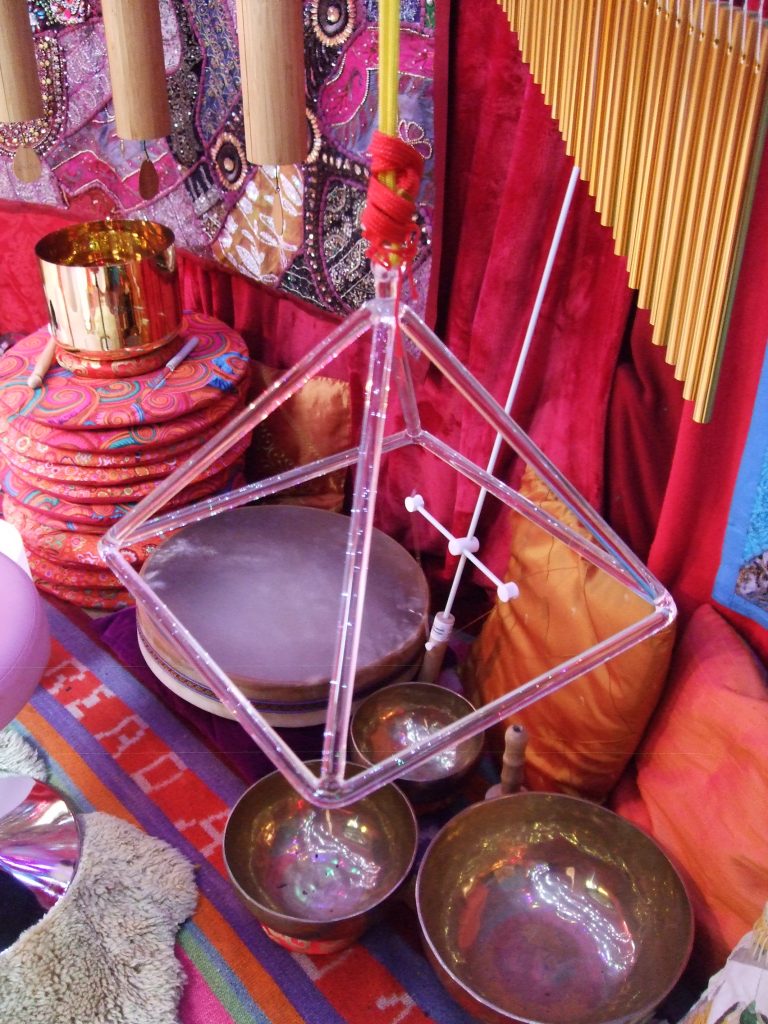 Guy testimonial … "I have just had the immense privilege of being the first residential student of Ali Oakwood to learn all about sound bath healing with the many different sound tools that Ali has including a Symphonic gong.
What I learnt over the six days that I stayed was a real eye opener.
I found Ali's tuition to be extremely thorough and very professional.
Ali's dedication to her work speaks volumes, and to be taught in the way that she does it cannot fail to make a real impact (it certainly has for me).
If you're thinking of learning about sound bath healing, I cannot recommend Ali highly enough.
During my six day residential course at Ali's I experienced wonderful home cooked very wholesome food. The type of food provided really hit the spot for the energy used by me on the course.
As for the accommodation, again I was the first to experience sleeping in the "Hermitage" adjacent to her beautiful Yurt.
Very comfortable and very cosy.
All in all the six days was an amazing experience on all levels.
I feel that anyone who opts for the residential course will NOT be disappointed.
Thank you Ali
Bless you
Namaste
Guy Taylor
Healing Intent … www.healingintent.co.uk"