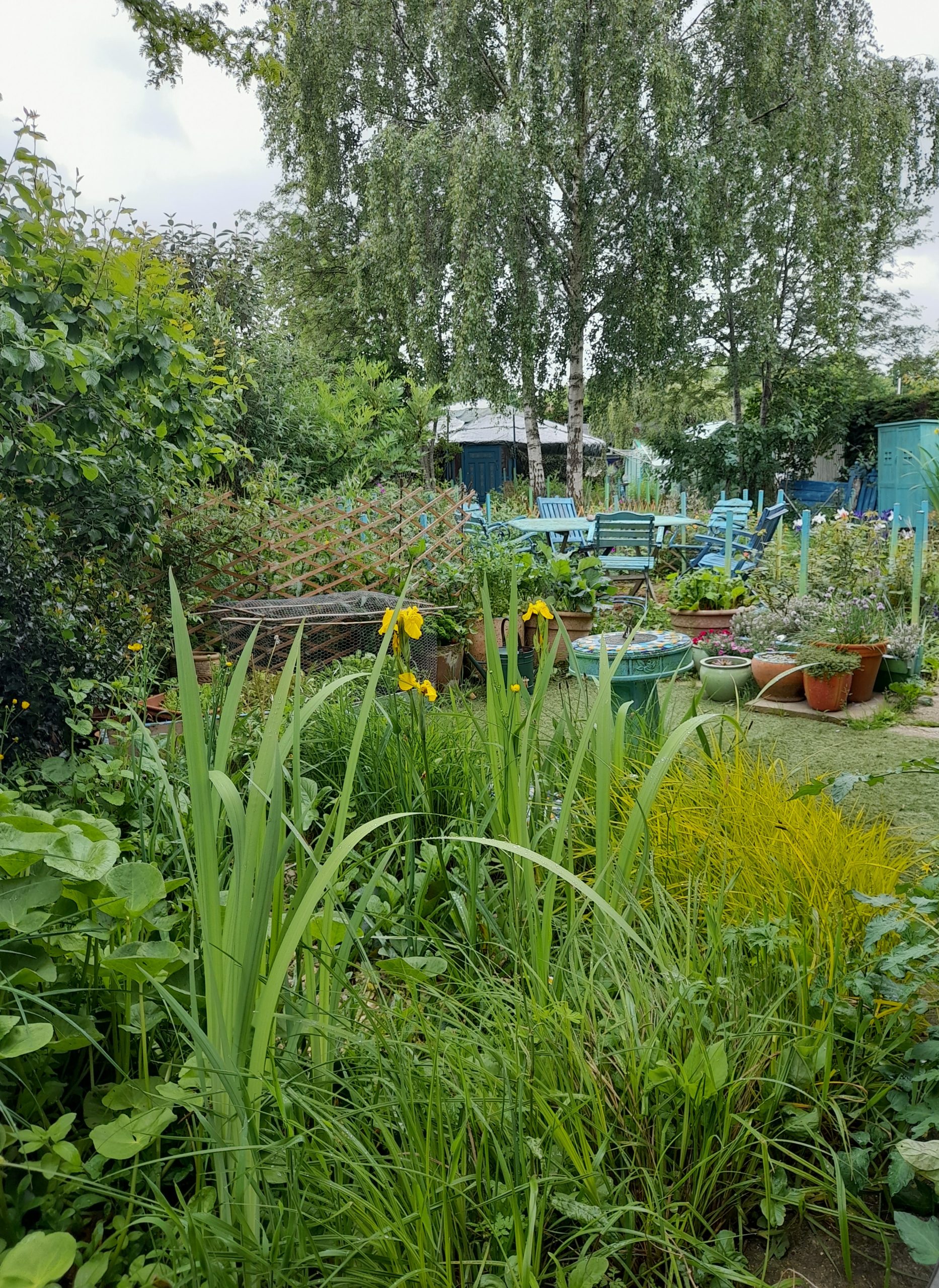 Ali Oakwood
Wivelsfield Yurt & Paradise Gardens
(One-to-one/couples) Symphonic Gong Therapy Sessions
(Group) Drum and Voice Circle
(One-to-one/couples) Sound Healing Trainings
(Group) Celebration Soundbaths
(One-to-one/couples) Healing Retreats
One-to-one/couples SACRED SOUND HEALING THERAPY – 90 minute sessions consisting of Enquiry and Soundbath. Gentle, yet powerful and profound. £ exchange sliding scale of £60/£70/£80, you choose what you can afford.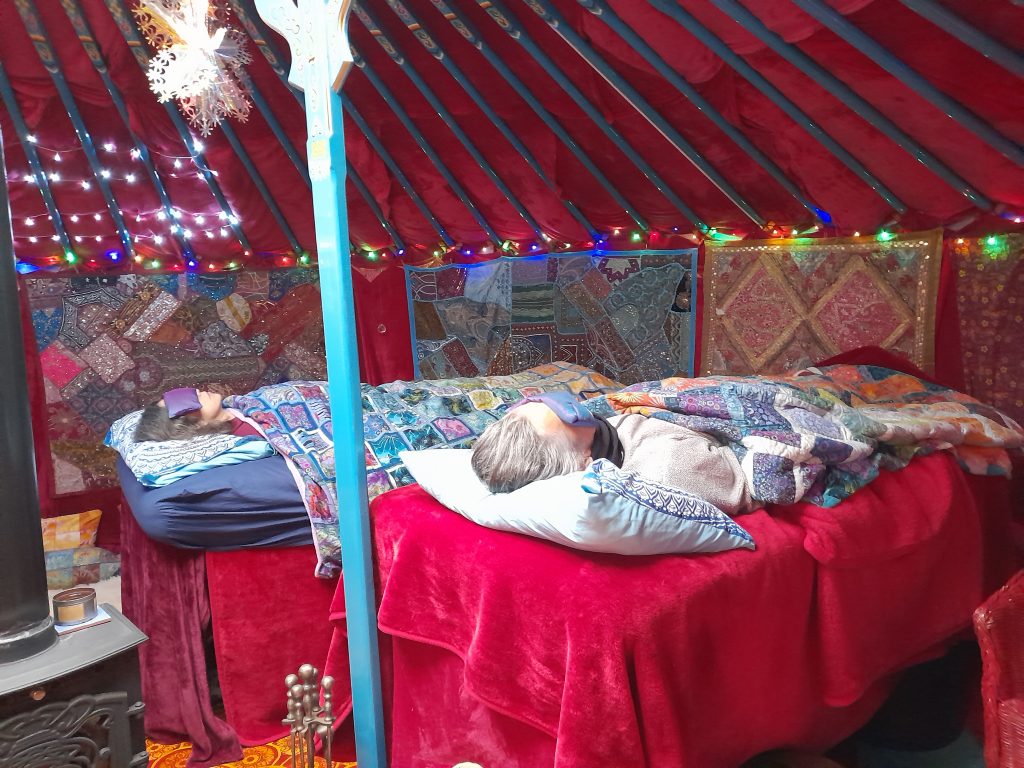 Couples and family/soul family groups welcome.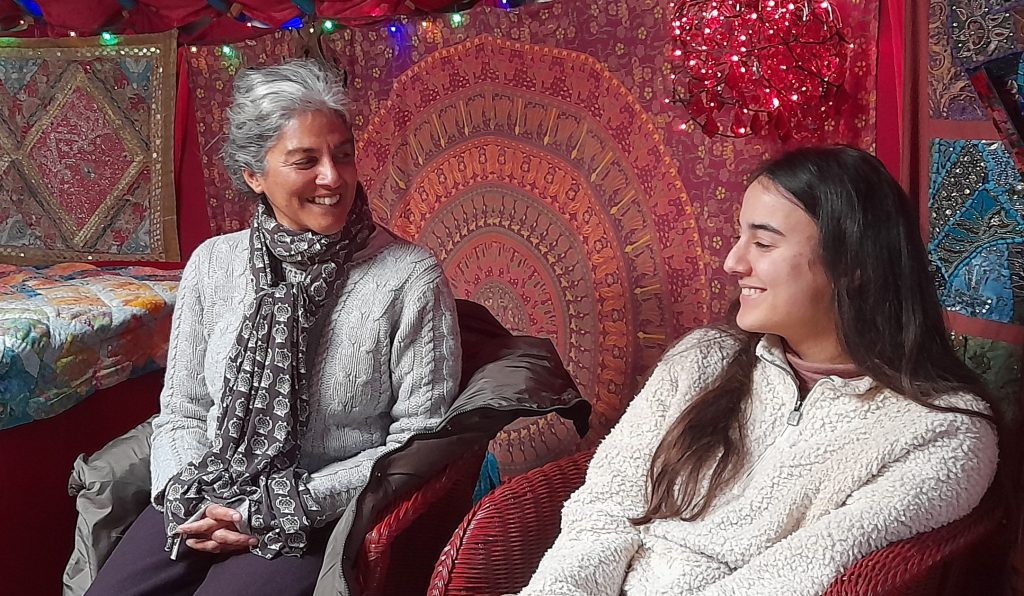 Lightworkers most welcome. Upgrades and Downloads. Regenerate and Restore.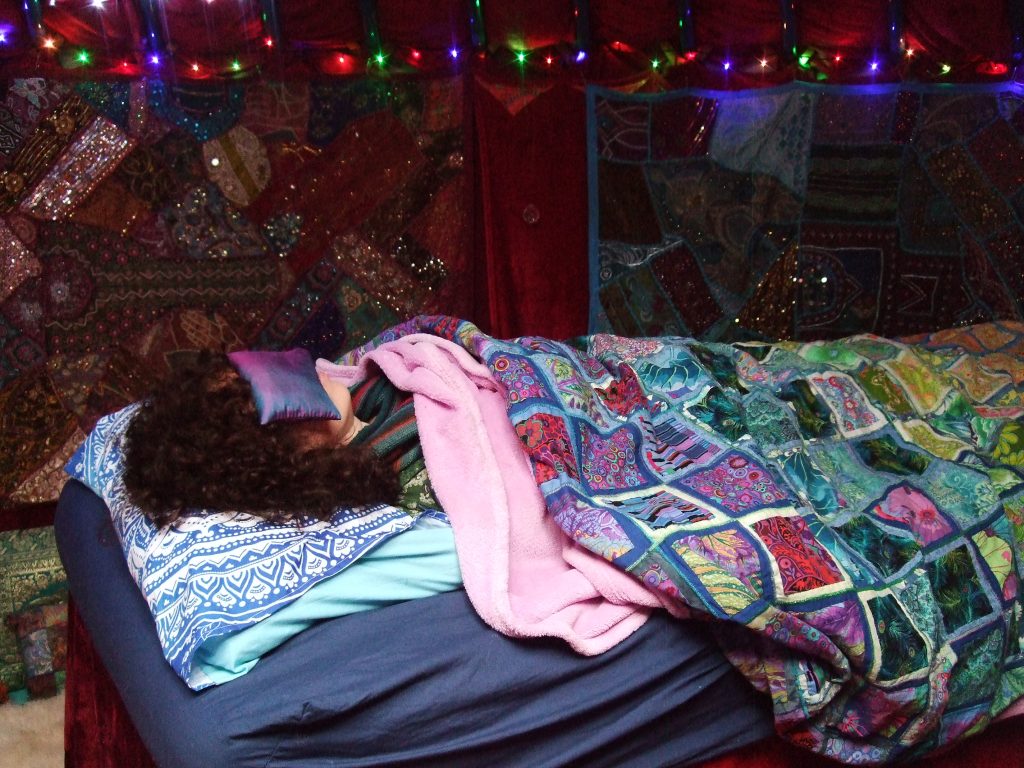 "As a sound bath practitioner, as well as a full time working single mum of 3, I am constantly giving out my time, love and energy.
Over the past few months I have started to feel like my cup is rather empty and my creative flow and energy felt stagnant.
I found Ali online and had the beautiful pleasure of visiting her today in her magical yurt for a sound bath all for myself.
Ali is a warm, kind hearted, beautiful soul and her playing style is uniquely gentle and powerful. Her skill with the gongs is profound and it was a truly immersive experience.
After the wonderfully relaxing sound bath, Ali took the time to show me her instruments and help me understand some different techniques to playing than how I do now.
It was a truly inspirational and awakening session. Thank you" Angela, Beyond Time and Space, Immersive Sound Healing.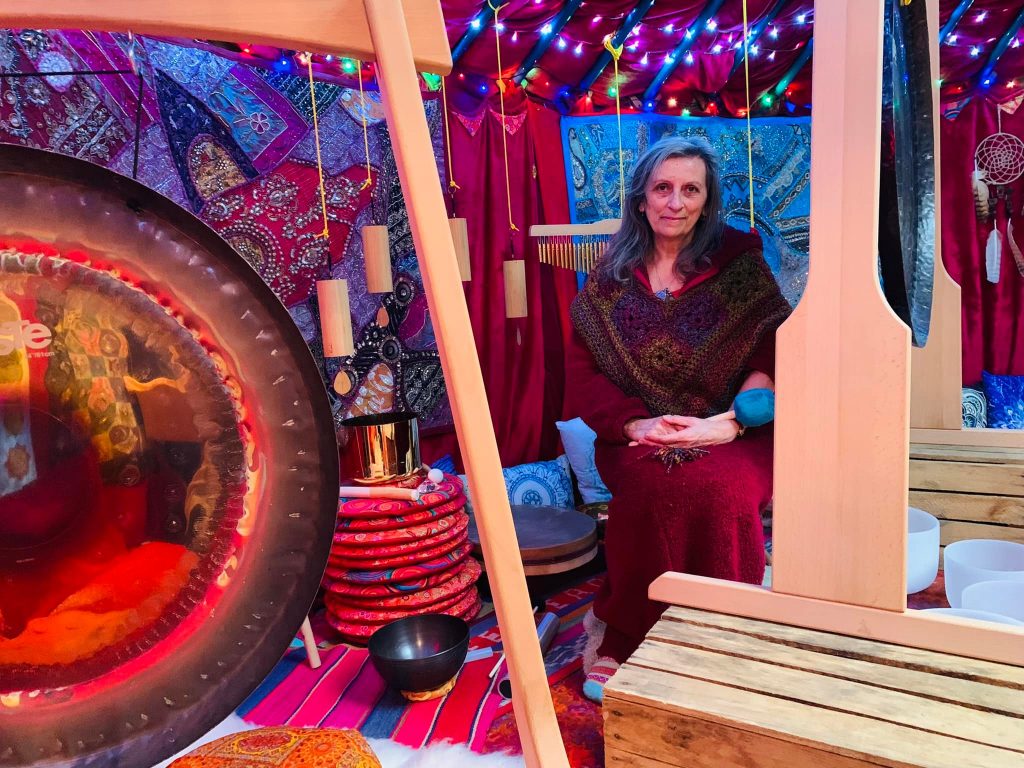 'SPIRIT FLOW'
SACRED SOUND HEALING TRAINING
Each 6-day training is unique and created in the moment, one-to-one and bespoke. This is an opportunity to work with Spirit and connect with your unique, authentic soundhealing voice.
You will have the opportunity to discover technique, experiment and explore in a beautiful supportive environment; to witness and receive soundhealings for your personal development and healing journey.
Whether your aim is to give group sound healing sessions, merge your existing healing modalities with sound, or something else entirely, this training course will give you all the preparation you need.
6-day course spread over 6 (preferably) consecutive weeks. Sliding scale of £100/150/200 a day, you choose what you can afford. Throughout the year when it works for you.
"I can highly recommend this training. Ali is a very experienced and gifted therapist and most generous in sharing her invaluable skills and wisdom. As a result of this course, I developed my own modality of Somatic Sound Healing. Ali was open and encouraging for me to experiment and find my healing niche and I couldn't be more grateful to have had this wonderful opportunity." Jean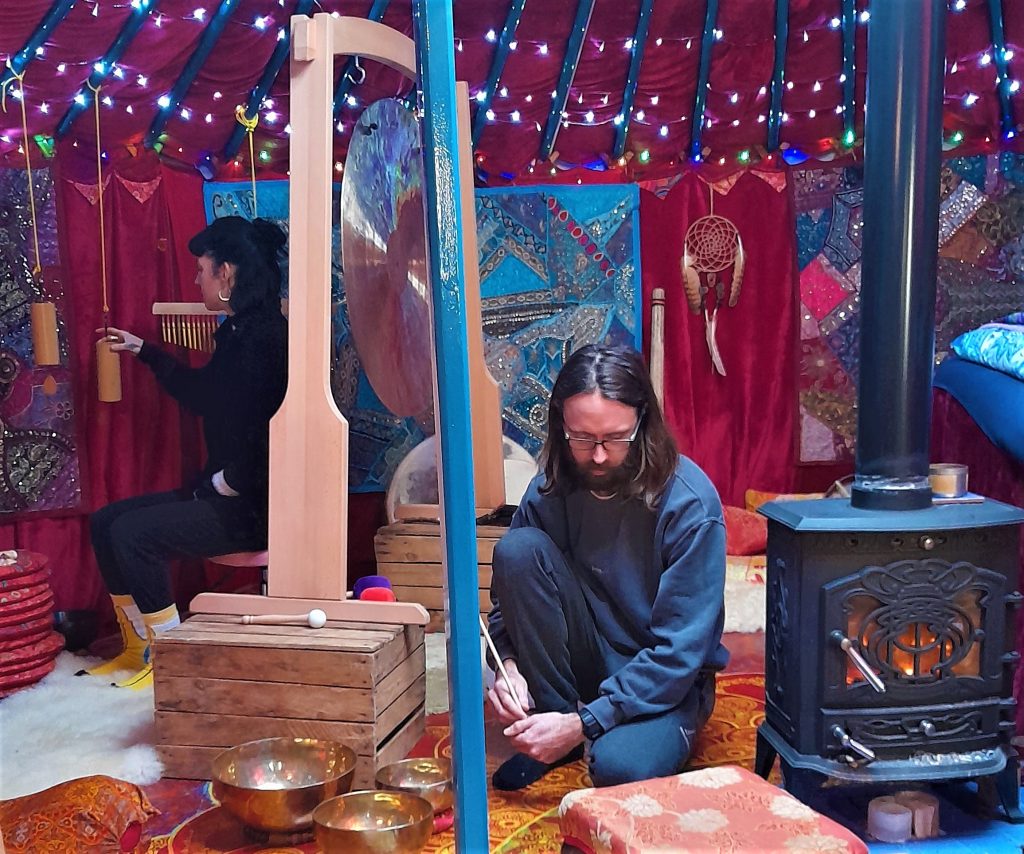 To be inclusive, and to honour our sovereign right to choose, we welcome both the vaxxed and unvaxxed. The request is that you are considerate and discerning and do not attend any gathering in the yurt if you are at all unwell, with any symptoms or germs. If you're not sure, then you probably should stay away. With love x
Every Wednesday we gather in Circle to hold Sacred Space, Heartshare, Drum, use our Medicine Voices for healing, and receive a Gong Soundbath. The Intention is… through healing ourselves we raise our individual and collective vibrations.
I have drums and beaters to lend or bring your own. Bring salad/snack food to share afterwards for a communal 'pot luck' lunch/supper. Up to 7 guests welcome. Donations welcome for yurt upkeep and investment, sliding scale of £10/£15/£20 depending on your circumstances.
Wednesday Daytime Circle in the Yurt 11am to 1pm. Shared salad/snack communal 'pot luck' lunch till 2pm.
To be inclusive, and to honour our sovereign right to choose, we welcome both the vaxxed and unvaxxed. The request is that you are considerate and discerning and do not attend if you are unwell.
"Thank you so much for the wonderful times at the yurt. The drumming circle and sharing is a profound and beautifully held experience. I love the way you create community and welcome everyone into your space so generously too." Ina
"I had the opportunity to be part of a drum ceremony under the spiritual direction of Ali Oakwood which I find excellent. The atmosphere and the energy of these ceremonies are exceptional. Feel free to explore this restful and peaceful place.
Thank you Ali"
Thierry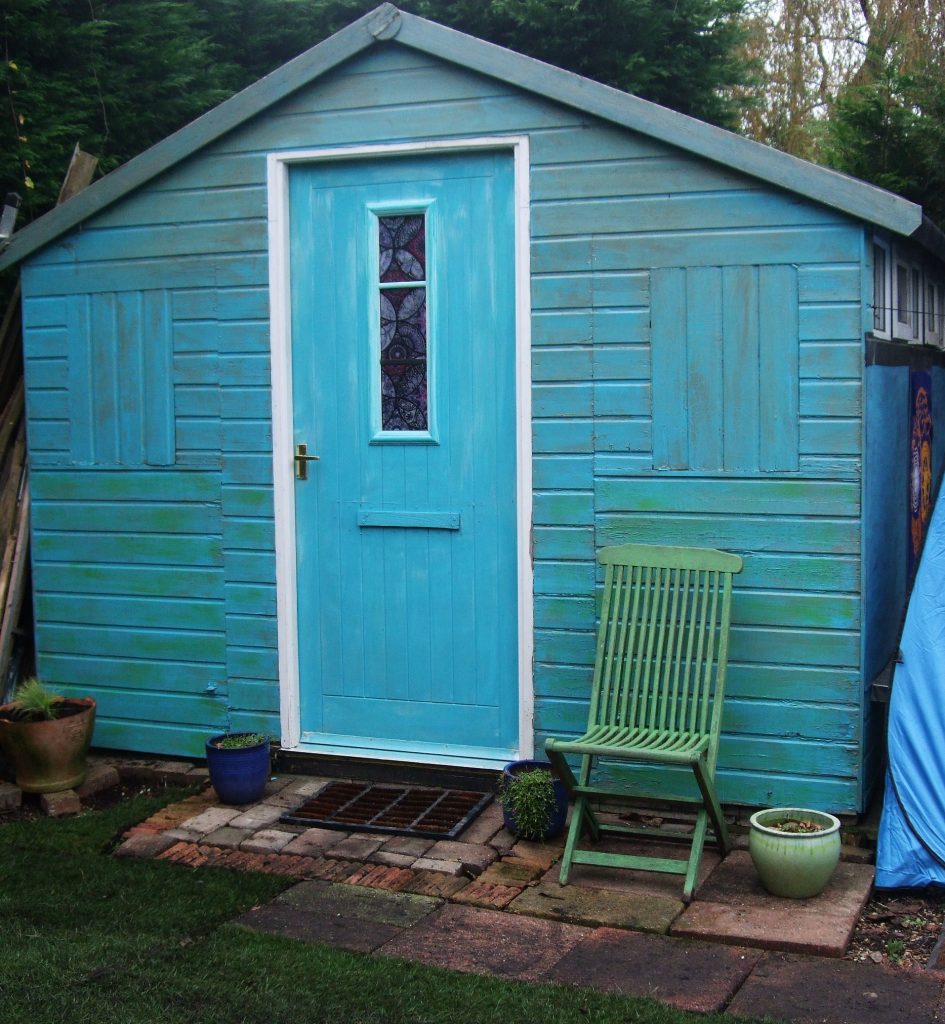 One-to-one/couples bespoke Healing Retreats created for your individual needs. Come and be nurtured and renewed at this beautiful venue. Relax and detox, retreat and reconnect. All experiences are unique, created in the moment, in response to your needs. The £ exchange is a sliding scale of £100/£150/£200 a day, you choose what you can afford. This covers sound healing therapy gong baths, food and accommodation… whatever flows.
Residential/non-residential
Give a BIRTHDAY treat to a loved one. Two hour session of Sacred Circle, Heartshare, Drum, & Gong Soundbath.
Birthday person comes for free. Four guests pay £20 each.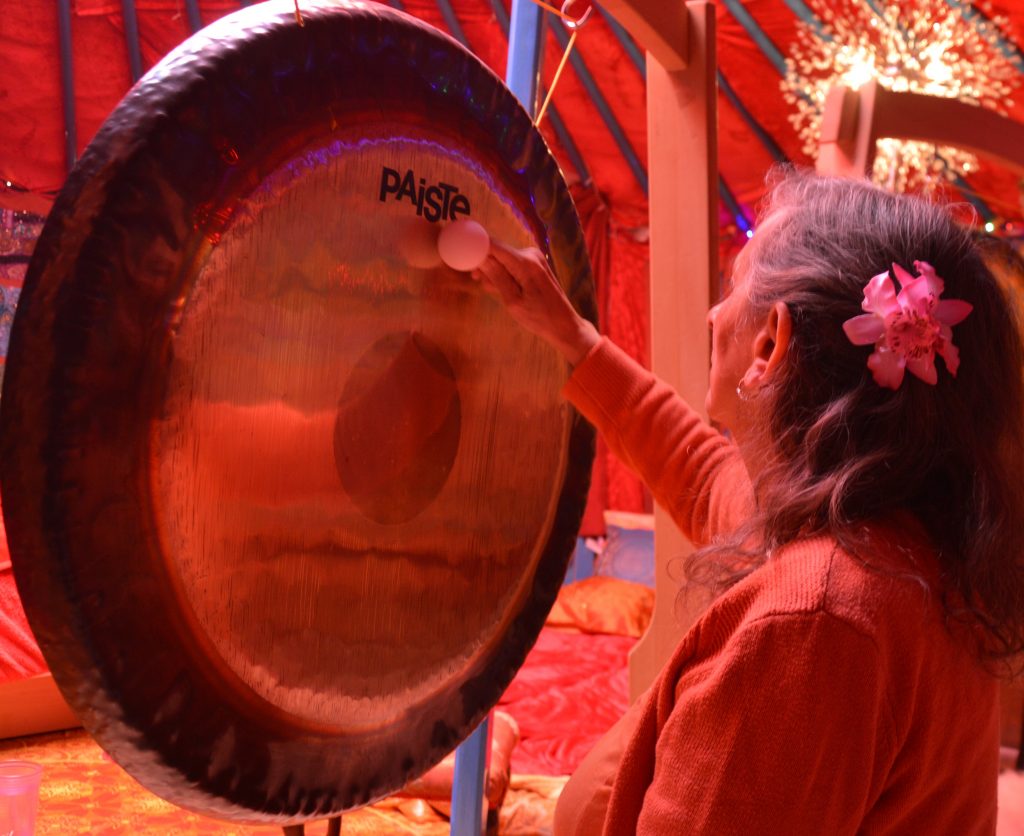 Free Sound Healing Sessions. See FREE VIDEOS page for more info.
YouTube VIDEOS – free sound healing session archive
YouTube channel – METTA COLLECTIVE – Love in Action – YouTube
Facebook page – New Earth Gong and Drum Baths | Facebook
We are a collective of Healing Practitioners, working singly/in collaboration, often through the media of Sound Healing Therapy and Conscious Embodied Movement and Touch, and other merged modalities.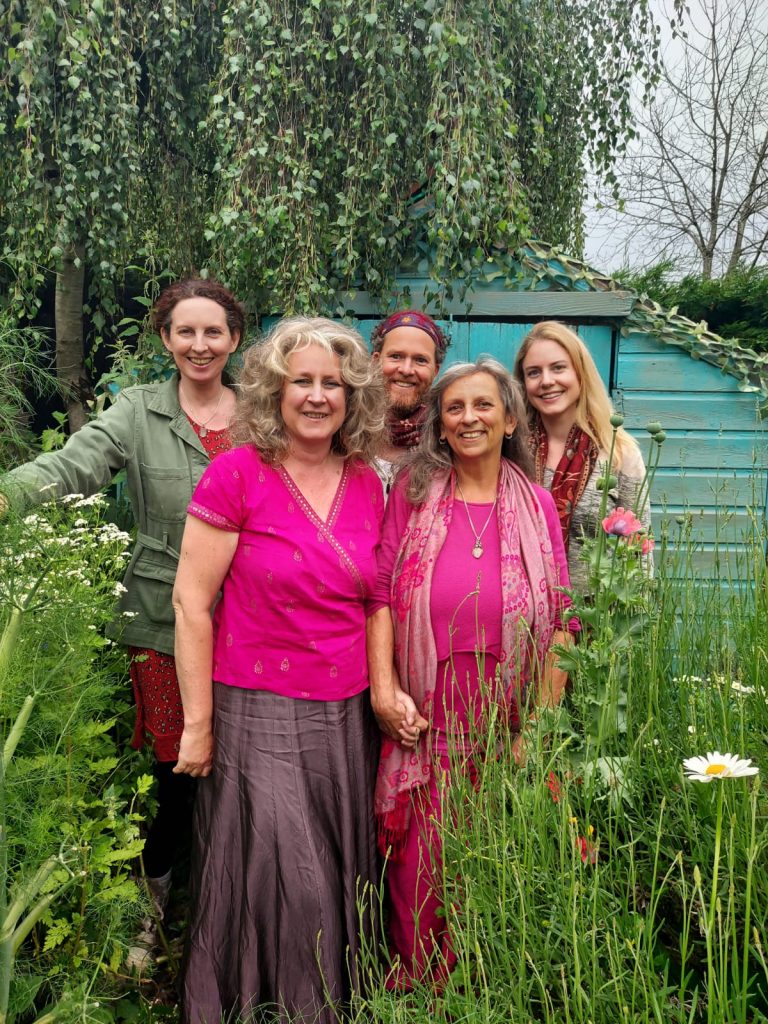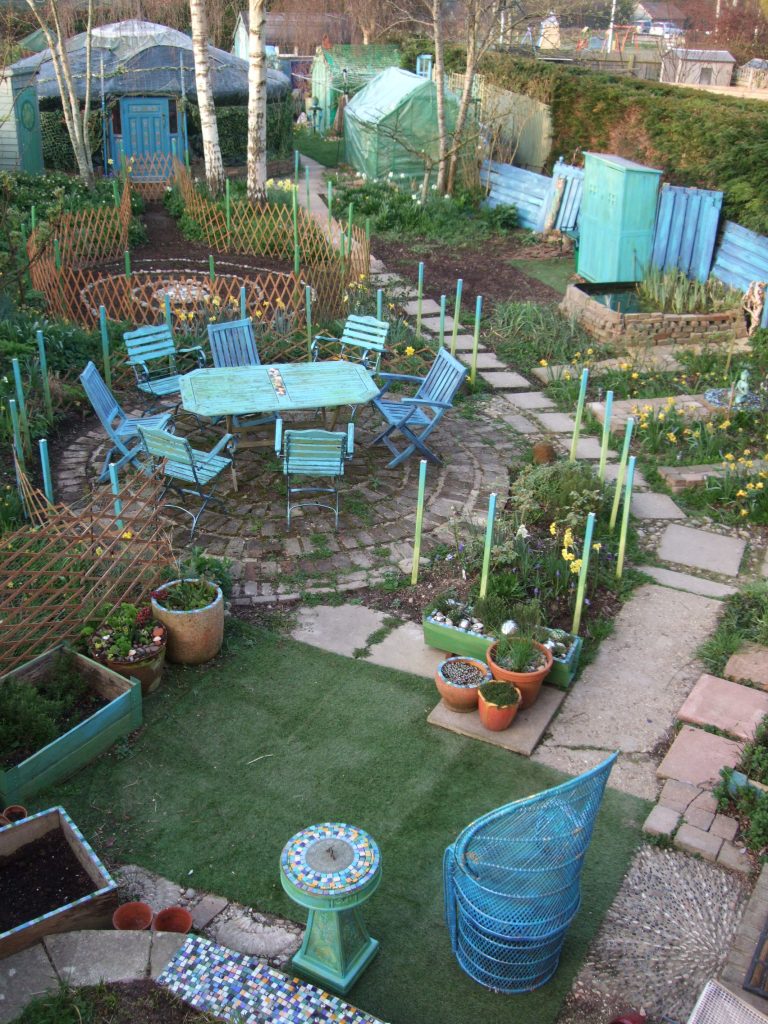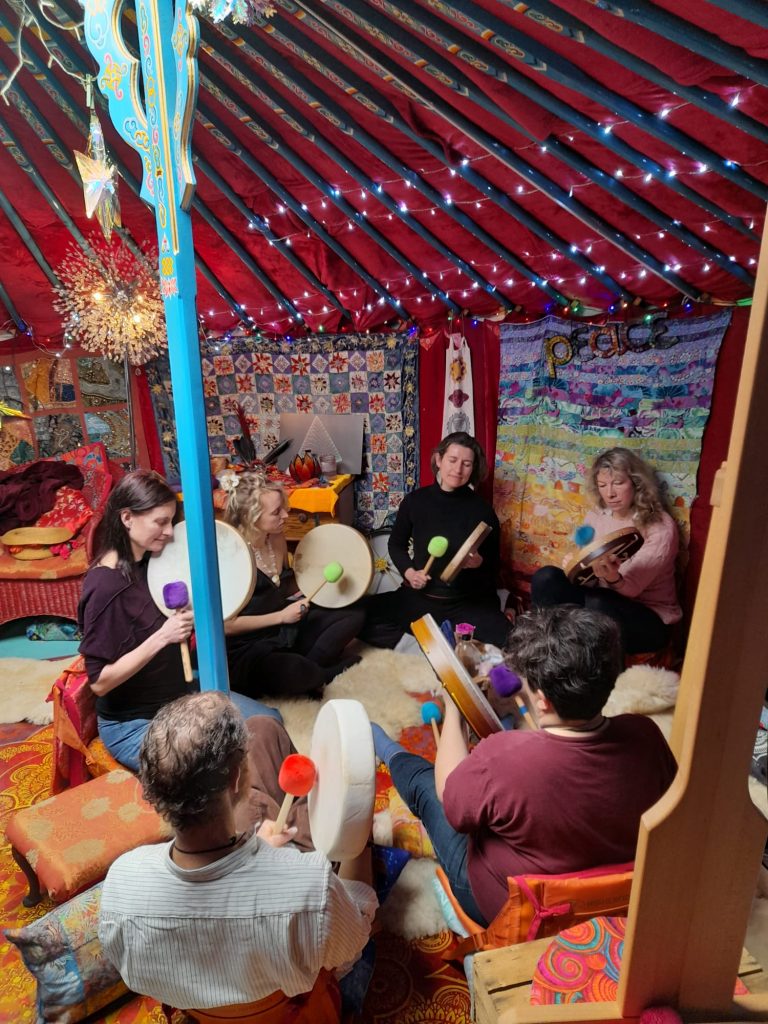 BIRTHDAY CELEBRATION GROUP SOUNDBATHS
Give a BIRTHDAY treat to a loved one. Two hour session of Sacred Circle, Heartshare, Drum, & Gong Soundbath.
SACRED ARTWORKS
SACRED ARTWORKS for sale – oil paintings, prints and blank greetings cards.
Original & unique Visionary Art imbued with Resonance & Healing Vibration.
This ARTWORK is designed to live in your home, healing spaces and studios. Created with Love and Guidance, channelled from Source.
To buy the paintings, affordable

payment plans are available … £50 deposit then monthly payments of £50.

"I have a number of Ali's creations in my home. They are magnificent – ALIVE with healing energy. The photos are a taste of this powerful art. When experienced in the flesh – something else happens to your system." H.H.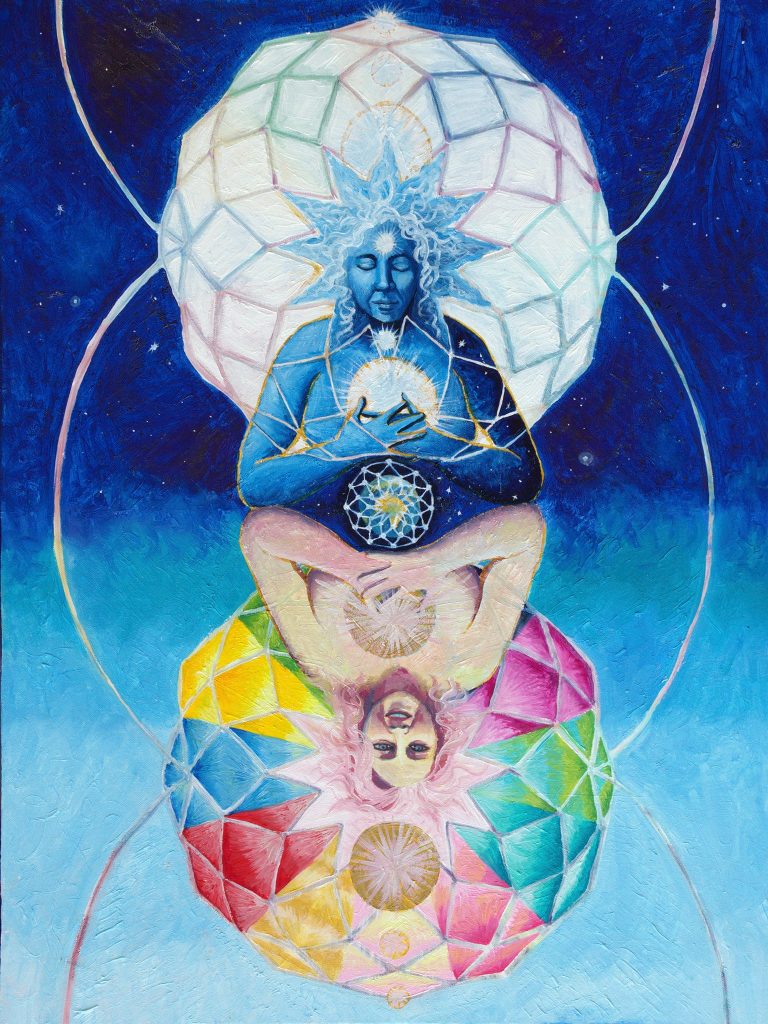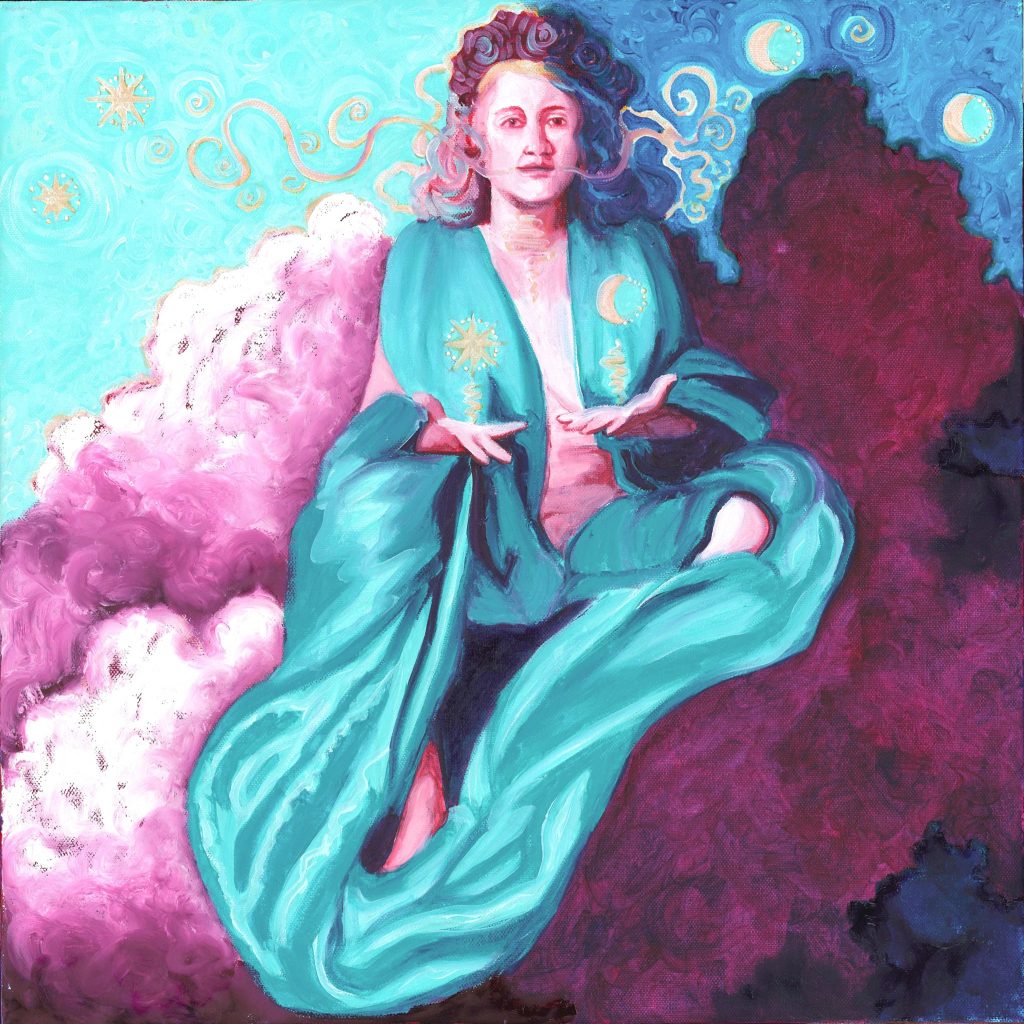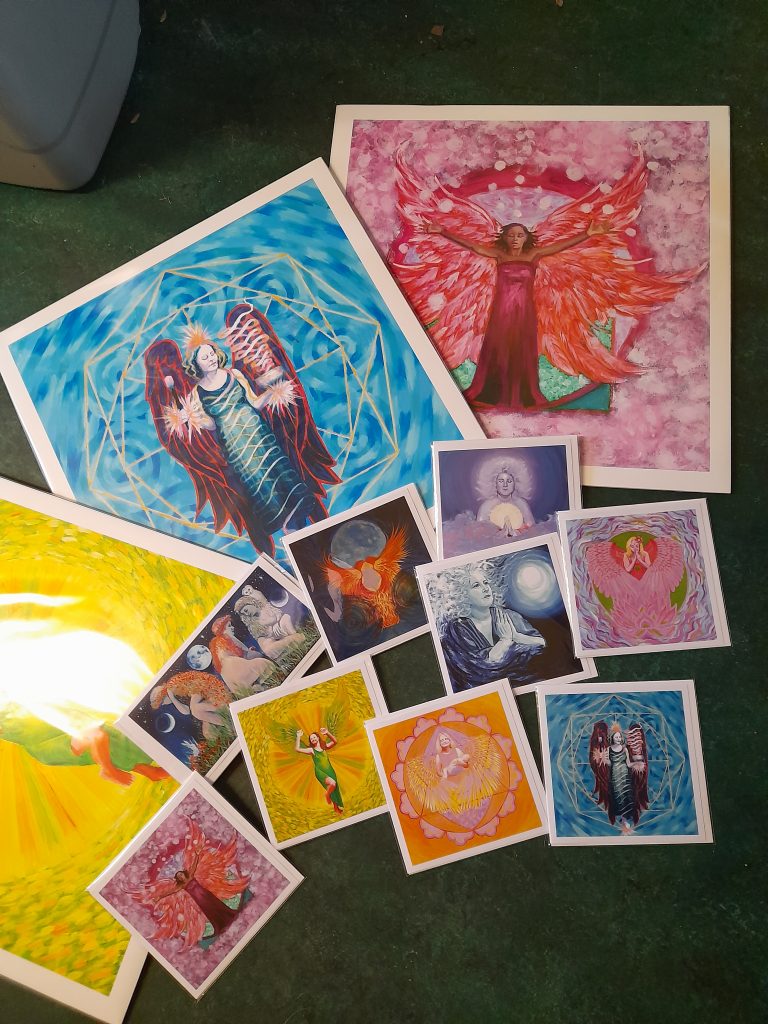 TESTIMONIALS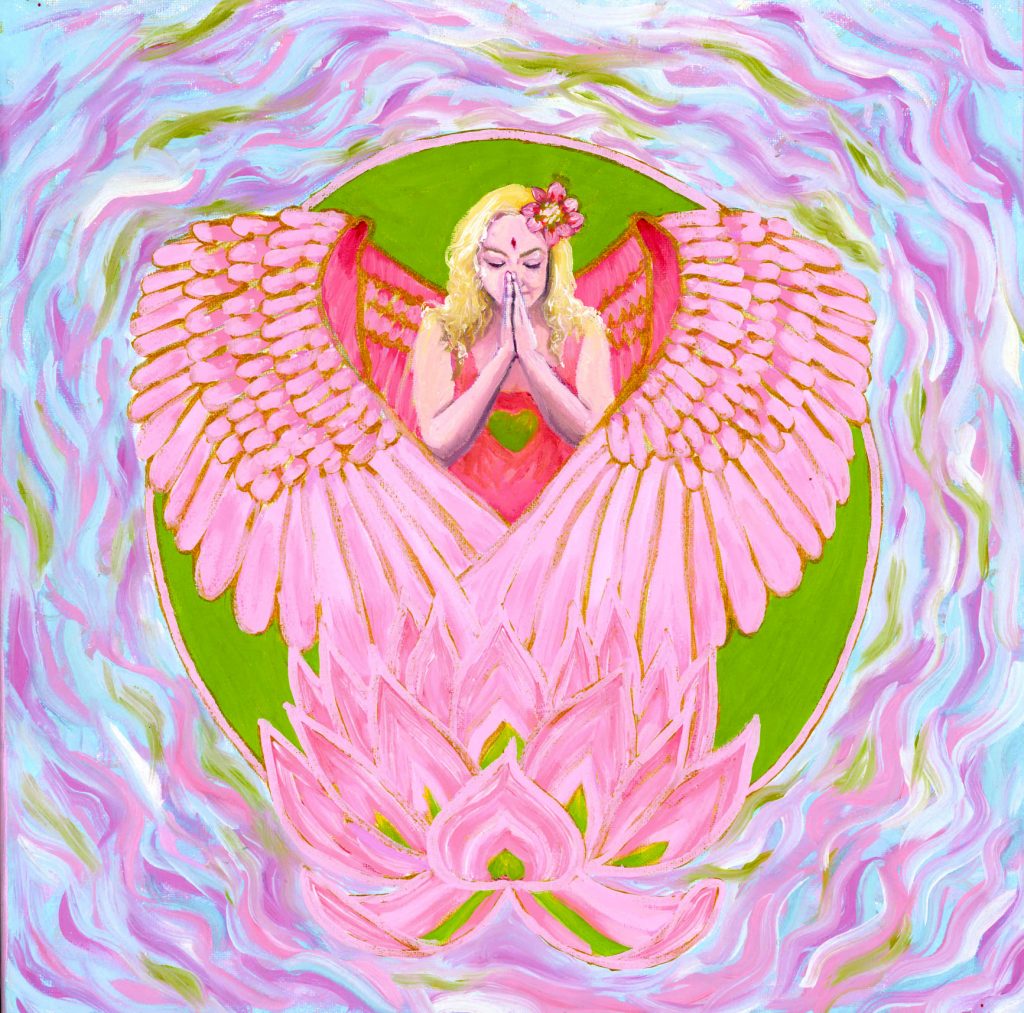 "Ali is a most intuitive & wise healer. She weaves the art of therapeutic enquiry with skill, patience, compassion; and practices with the highest level of integrity.
The healing sound journeys and training I have experienced with Ali have distilled more clarity of patterning that is limiting me, as well as aspects that are here to support & inspire, aspects that I can truly trust in myself.
I highly recommend a healing sound session with Ali. The connection & communication between her & her instruments, in service, in beautiful surroundings, are indeed a unique experience."
SHIVANI MARIA. Forest Row, Sussex, UK. Mother, yoga teacher, apprentice sound healer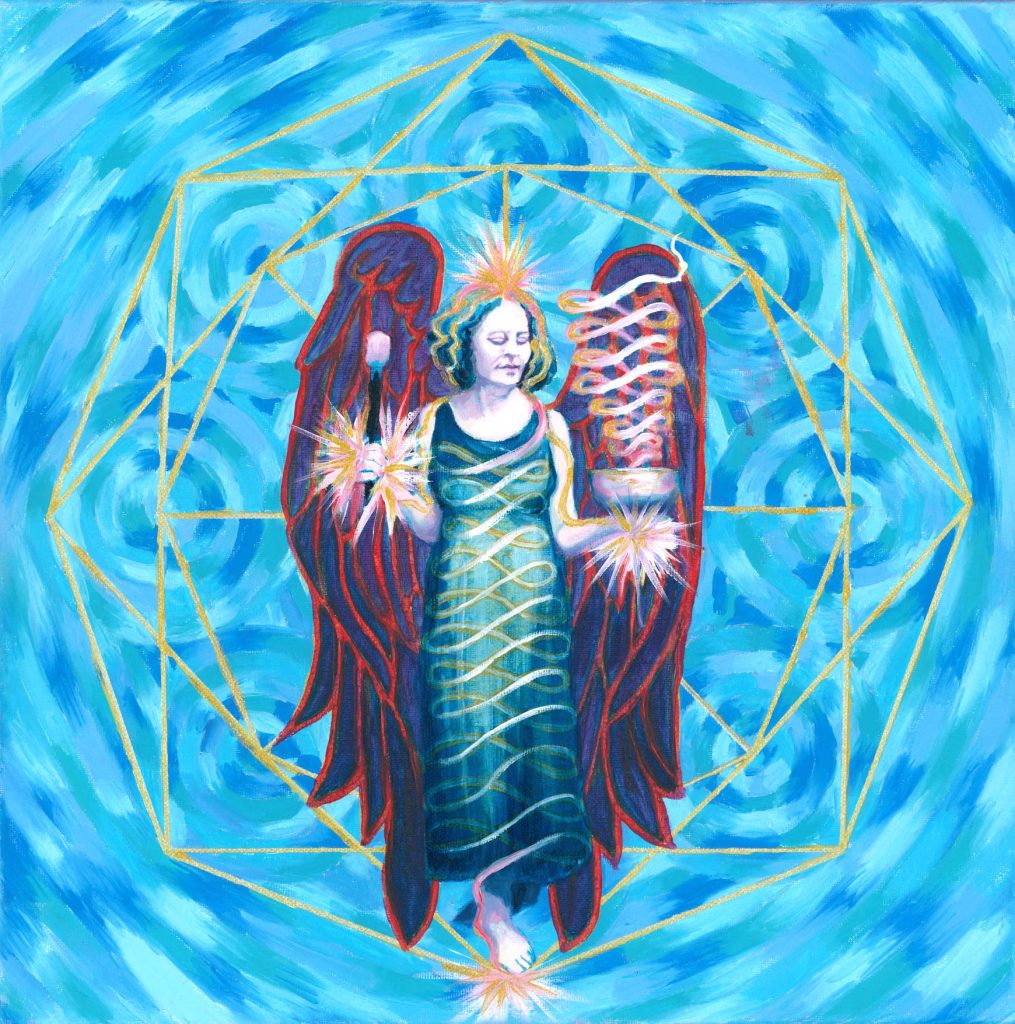 "From the second my feet entered Ali's wonderful healing space I was made to feel at ease and in safe hands. Ali walked me through the instruments and explained the flow of the session and then encouraged me to discover what had brought me to the yurt. Ali allowed me to centre and set intention and then began to work her magic.
Ali managed to hold what felt like possibly the safest space I've ever been afforded to process in a sound healing setting. The yurt felt like a cocoon, specific in its intention, a place for healing that was both nurturing and protective. A perfect space in order for me to work through some quite heavy content.
Ali, through the soundscapes she created, stood with me at every turn drawing out what needed to be brought into the light, intuitively working through the sound tools she has assembled and allowing me the feeling of safety and a presence in the room that I could trust and work with on all levels.
Ali led me on one of the deepest dives into an altered state of consciousness I've ever taken part in and in doing so led me to a place that I feel has been unavailable to me in a lot of sessions prior to this due to the fact a perfect storm of safe space/craftsmanship/setting is a rarity and is really difficult to come by in the way Ali and her Yurt make possible.
It was a very unique and immersive experience and the work we carried out will reverberate through my days for weeks to come as I fully process and integrate what Ali helped me achieve.
Ali is a wonderful lady, generous, caring and extremely attuned to her craft, a person who I admire greatly and I will continue to visit for as long as I can. Thank you Ali xxx"
SKY EVANS – BAST trained sound healer
"Well… Having had the wonderful opportunity to spend 6 days with Ali enjoying the intensive residential training during the final days of summer in the yurt, I now sit with a wide smile on my face in thought. Ali guided and shared with me in accomplishing something really wonderful and I am filled with a love and a real appreciation for Ali as a person, as a friend and as her student.
I chose to seek the guidance of Ali to explore with her the intuitive aspect of sound healing and the innate potential that we all have within being unlocked and brought into my practice in a way that I knew she could. It was this specific area (incorporating intuitive and innate ability) whereby this experience truly blew me away.
Having enjoyed very moving and profound sessions as a client, I knew what Ali had to offer in assisting my direction and holding space for me to explore my nature within sound. Ali's abilities, the practicalities of a sound healing environment and the potential of her imparting the knowledge of healing she had accumulated, not only in sound, but energetically, and her extraordinary ability to hold a safe and sacred space that I had only touched upon on several occasions prior to meeting Ali, all drew me to the conclusion that this was a wonderful opportunity that should not be missed.
Firstly Ali has a yurt, a really beautiful yurt. It is a space that is very well loved and maintained and filled with wonderful art, lighting and an aura that is supported by elemental scents and stimulus to aide you in your journey. The obvious affection Ali has imparted on the space becomes infectious to the student that wishes to be open to absorbing all we can from the teacher. The yurt is nestled in a wonderful wild garden that in summer is akin to something out of a fairy tale, calling you to enter and feel grounded and present and comfortable, and Ali's energy holds the space together with aplomb.
Inside the yurt the selection of sonic tools offered kindly by Ali for use during the course of the 'apprenticeship' are many and are of the highest quality, again handled and cared for with love, all with their own individual personalities and nuances that over the time share with you their secrets and in doing so expose you, the querent, to secrets that may well have been hiding within you for your entire life.
Ali carefully grounds you each day with wonderful guided meditations and warms you up with carefully and uniquely compiled, heart opening, expansive systems and routines to prepare you for the daily work that you are about to undertake. I found these daily openings to our sessions (and the Mint tea!) to be so lovely and the perfect start to the deep and illuminating work we shared in together.
Ali guided me through each individual piece of sonic apparatus and then watched and listened intently as I explored the feelings these sonic tools conjure from within. Ali allows you the space for you to see exactly what it is you need to discover and a unique dialogue on techniques, playing habits, do's/don'ts, works and won't; becomes a space where you begin to learn about yourself, the equipment and the exchange that is taking place with Ali's nurturing guidance.
Offering a very dynamic structure and a fluid motion of moving through the course, Ali allows you to discover where it is you need your experience to take you. Everyone and each experience we have is different but I know that wherever the path of enquiry will take you, be you experienced as a healer or total novice, Ali has the ability to stand with you every step of the way.
I was assisted during these 6 days in finding out so much about myself and the potential within, both in the sound and most amazingly away from the sound too, about my character, my life's path, the energy that surrounds me and an understanding of the steps I need to take to find balance, and a path of wonderful potential that I am now accessing and each time I do so I know I have Ali to give gratitude to for sharing with me a lot of herself and the knowledge she has accrued.
Ali also facilitated daily healing sessions to end proceedings that you really need to be part of to appreciate. Wonderful, wonderful sessions that she channels and presents to you whilst you sit as snug as a bug in a rug under warm blankets and on one of many very comfortable places to lay your head on a lavender pillow and eye cushion and journey to wherever you need to go, discovering whatever you needed to uncover, seeing exactly what it is you are supposed to see.
At the end of the training given Ali gifted me a number of wonderful opportunities to work on and with other healers from within Ali's Metta Collective, in turn giving feedback on my progress and a great gift of knowing the right direction had been assumed and new skill set had been gained.
After the 6 days in the yurt, I left a very different person to when I arrived and for that I will be eternally grateful to a remarkable woman. I left with a friend for life and an indelible understanding of the workings of a true healer, a healer that had so openly and generously gifted me an insight not only into the her workings but opened up a new chapter in my life and a new understanding of how I myself work and understand the power of intuition, sound and my own ability to facilitate a healing space. Thank you Thank you Thank you" Sky Evans – Sound Alchemist, working in Bali